Know Your Coffee: Espresso, Moka Pots, Pour-Over, French Press & Cold Brew Coffee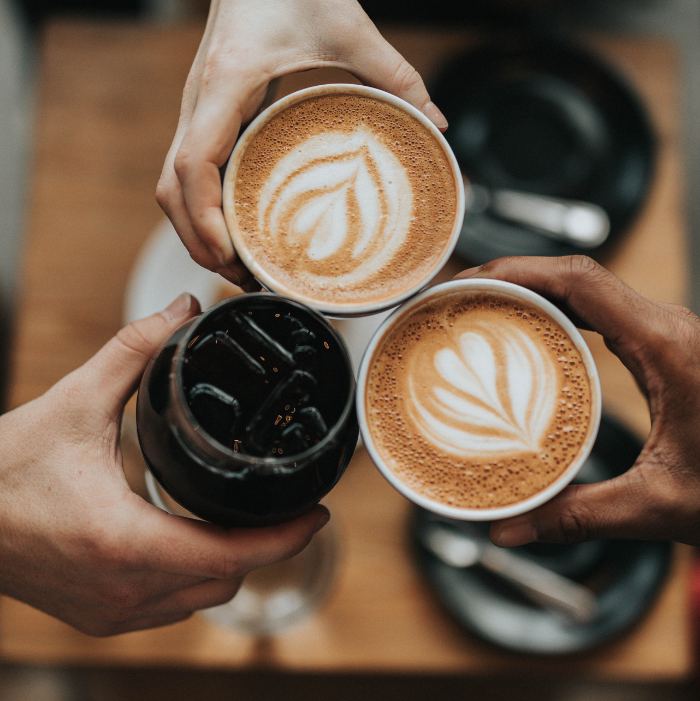 Espresso & Espresso based drinks
Espresso is a coffee-brewing method of Italian origin. It uses a small amount of nearly boiling water which is forced under 9–10 bars of pressure through finely-ground coffee beans. This creates a smooth and strong coffee drink. The defining characteristic of the Espresso is a golden layer of foam covering it, known as Crema.
Espresso is the base ingredient for most of the coffee drinks that we know of:
Cafe Latte: Usually made with ⅓ parts espresso and ⅔ parts steamed milk, if you like a milky coffee drink Cafe Latte is perfect for you!
Cappuccino: Originated in Austria and popularised in Italy, the Cappuccino is a classic amongst coffee drinkers. Named after the habitats of the Capuchin Friars, a cappuccino is made from espresso and steamed milk foam (also known as microfoam). It contains less milk than a latte, producing a considerably strong beverage.
Americano: Containing Espresso and Water, the americano is a espresso beverage perfect for the non-milk drinkers. The strength depends on the number of espresso shots added as well as the amount of water added to the drink. It's popular, but unconfirmed origin story goes back to World War II, where American Soldiers stationed in Italy found the espresso too strong to drink, and added water to it, creating a beverage similar to the filter coffee they were used to consuming back home.
Flat White: Originating in Australia, the Flat White is a perfect drink in between a Latte and a Cappuccino. Containing espresso and steamed milk foam, it has less milk to coffee ratio, giving it a strong coffee flavour and a velvety mouthfeel due to the microfoam.
Long Black: Commonly found in Australia and New Zealand, a Long Black is a drink similar to the Americano, but with a stronger taste and aroma. It is made by brewing two shots of espressos or ristrettos over warm water.
     2.  Pour Over Style Coffee:
The Pour Over style of brewing coffee involves pouring hot water through coffee grounds, usually through a paper filter. Pour Overs are a popular brewing method amongst many specialty coffee fans, as it brings out the aromas and flavours of the coffee. Since it is brewed by hand, it is called a manual brewing method. When brewed consistently, pour overs give a clean and refreshing brew, often highlighting the acidity and clean notes of the coffee. It is preferred widely by coffee enthusiasts to brew mainly single origin specialty coffee
     3.  French Press
The French Press is a manual brewing method, which produces a dense and full-bodied coffee. It's easy to brew and perfect for beginners, and people who enjoy drinking medium & dark roasts in coffee. Made from assembling a carafe (known as a braker) and a plunger, it has a very straightforward design. The coffee is brewed by pouring nearly boiling water over coarsely ground coffee, letting it sit for three to four minutes and pushing the plunger down, trapping the ground coffee, allowing only the brewed coffee to be poured out. It is recommended to decant the coffee immediately after the end of the brewing time, as it helps retain its flavour and stop it from turning chalky and bitter.
https://coffeeworkz.com/collections/french-press
     4.  Moka Pot :
Invented in 1933 by Bialetti, the Moka Pot has been a household name for Italians for many years. However, this isn't just limited to italians and has become the household name for people all around the world. Often referred to as the "Stove-top espresso maker", the Moka Pot brews a rich, thick, heavy-bodied cup of coffee. The secret to the delicious brew is the method in which the coffee is extracted. The pot is divided into three chambers: one for water, one for grounds and one for the final product. The pot is placed on a stove, and the bottom is filled with water. As the water begins to boil, the steam pressure pushes the water upward through the coffee grounds. The extracted coffee is then sent up through a spout and sprayed into the top of the pot. The pressure that a Moka Pot brews at is 1-2 Bars (Compared to the 9 bars of an Espresso), making the yield very similar to an espresso!
     5.  Cold Brew Coffee
Recent years have seen an increase in the demand of Cold Brew Coffee. Cold brew coffee is made by steeping coarsely ground coffee in water for 12-48 hours at cold or room  temperature. This slow, low temperature brew makes a coffee completely different from hot brewing the same type of coffee beans: mild chocolate and mellow, low acidity fruits are common flavour notes. The resulting brew is often very low on acidity, and a highly caffeinated beverage!