5 Quick Espresso Drink Recipes To Make At Home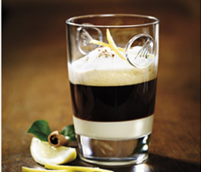 An espresso drink is specialty of coffee drink that is made in an espresso machine (espresso coffee maker).
Don't have an espresso machine? Not to worry.
Espresso varieties can be made in French press (Bialetti), pour over or in drip coffee maker. It is a strong coffee, made by forcing hot water through tightly packed grounds. This extraction process gives a pure espresso shot. Espresso serves as foundation of variety of coffee drinks and here are the recipes that can be made quickly at home.
Espresso recipes – below are detailed instructions on how to prepare the following espresso drinks.
BARRAQUITO
A speciality of the canary islands, with milk,espresso and licor 43.
1 espresso
Frothed milk
Thickened and sweet condensed milk
A splash of licor 43
1 pinch of cinnamon
Lemon zest
Pour condense milk into the bottom of the glass (1cm), add a layer of espresso and splash of licor 43. Top up with frothed milk, and sprinkle with a bit of cinnamon and
some lemon zest.
2. BLACK DESIRE
Espresso with smooth mocca ice cream, egg liqueur and cream.
1 cold espresso
Vanilla sugar
1 – 2 scoops of mocca or chocolate ice cream Cream
A dash of egg liqueur
Sweeten the cold espresso with vanilla sugar, and pour over the ice cream in the glass. Add whipped cream and decorate with a dash of egg liqueur.
2. VANILLA NIGHT
A creamy-sweet awakening: Strong espresso with the sweetness of vanilla cream and
the juice of an orange.
Cream
1 packet of vanilla sugar 1 cold espresso
1 hot espresso
10 ml orange juice Almond croquant
Whip cream with vanilla sugar and carefully fold in the cold espresso and the orange juice. Pour hot espresso into a glass and add the cream mixture. Decorate with a sprinkle of almond croquant.
4) MOCHA
The perfectly balanced interplay between hot chocolate and aromatic espresso rounded off with some airy and tasty milk froth.
1/3 espresso
1/3 milk chocolate 1/3 milk froth Cocoa powder
Pour three equal parts of espresso, chocolate and milk froth into a glass. Decorate with
a pinch of cocoa powder.
5) ICE MACCHIATO
Latte macchiato served on crushed ice. Refreshingly cool on hot summer days.
1 espresso Crushed Ice Milch + milk froth
Pour espresso into a glass and add crushed ice, fill up with milk and milk froth.