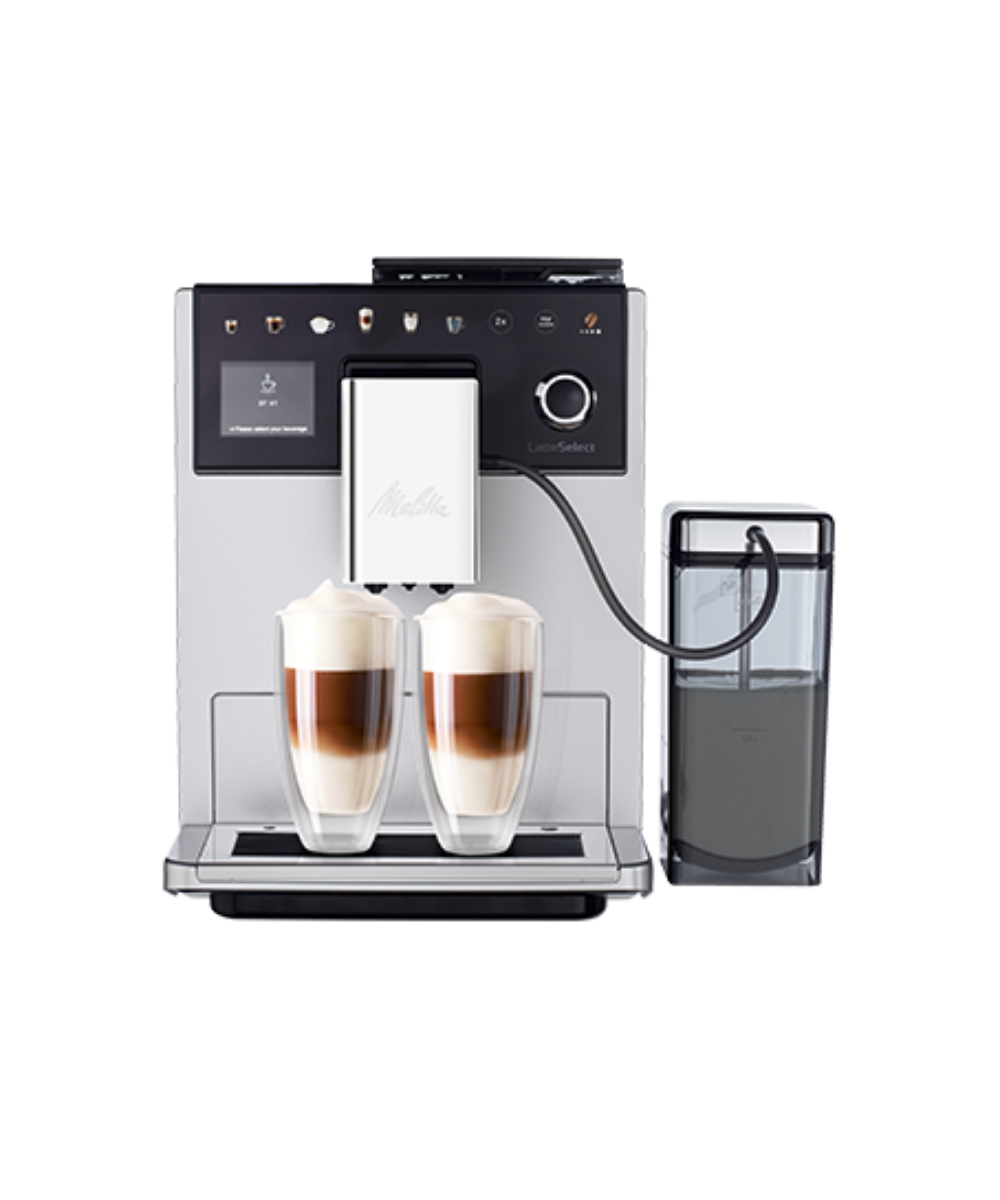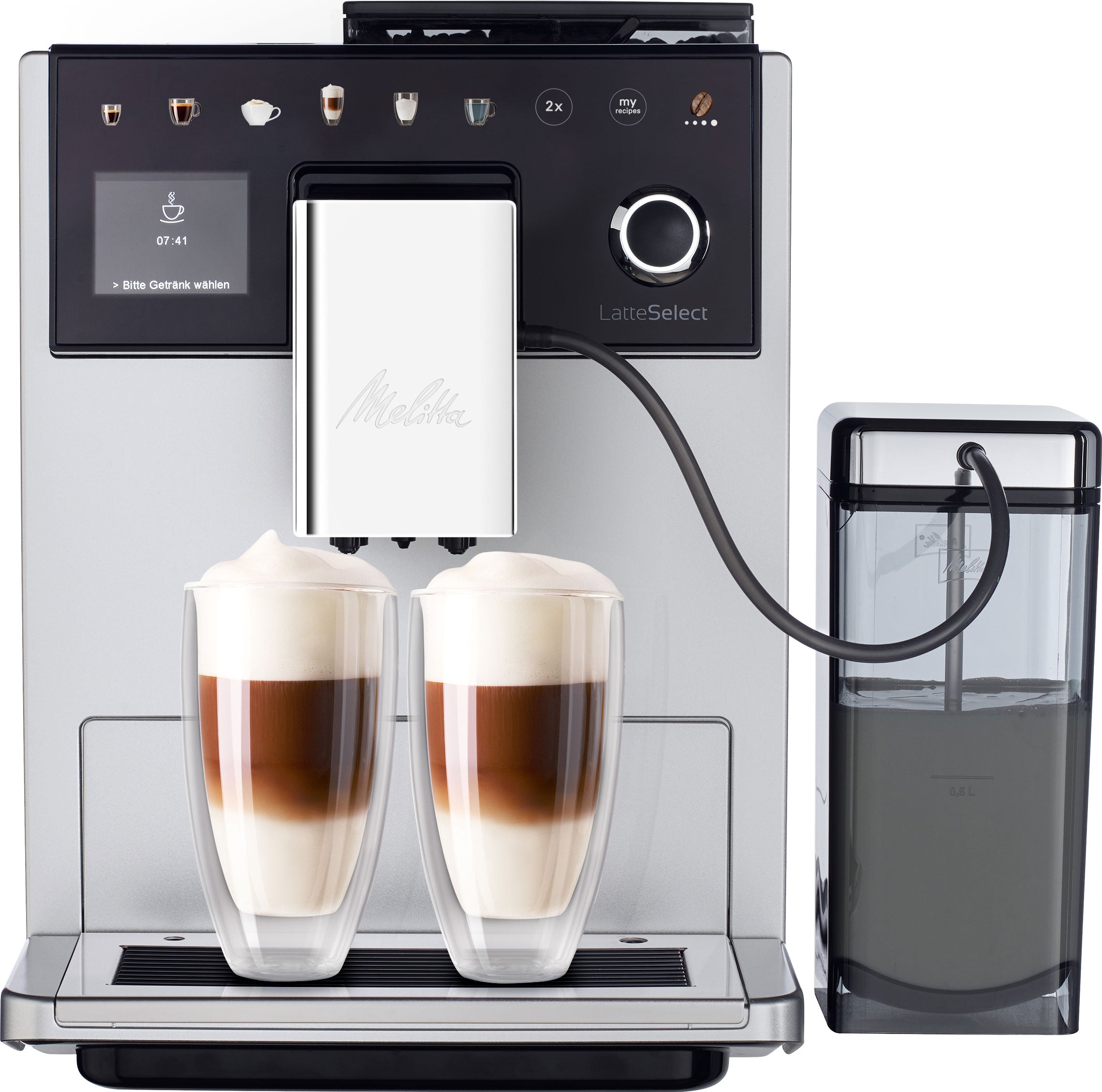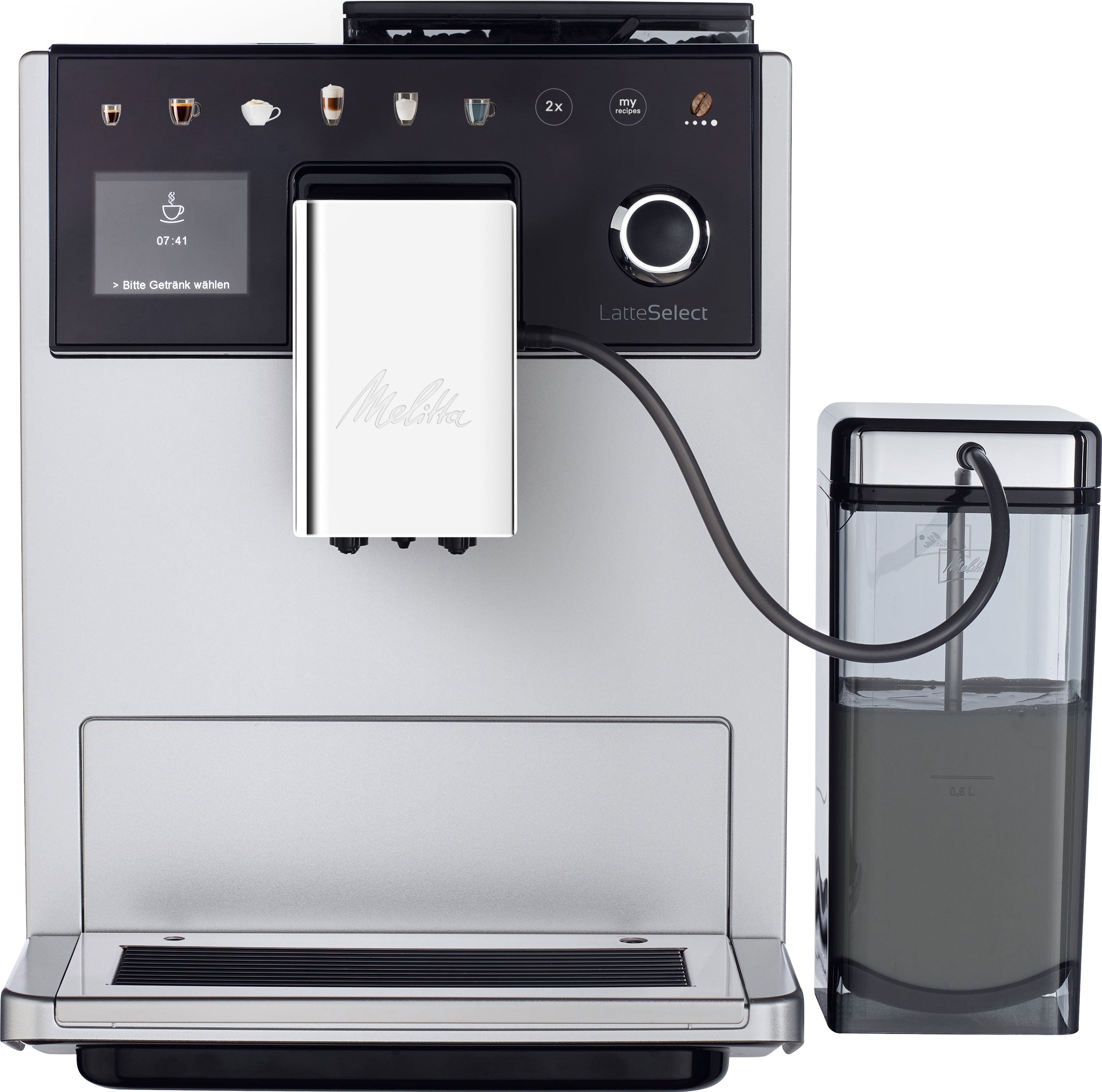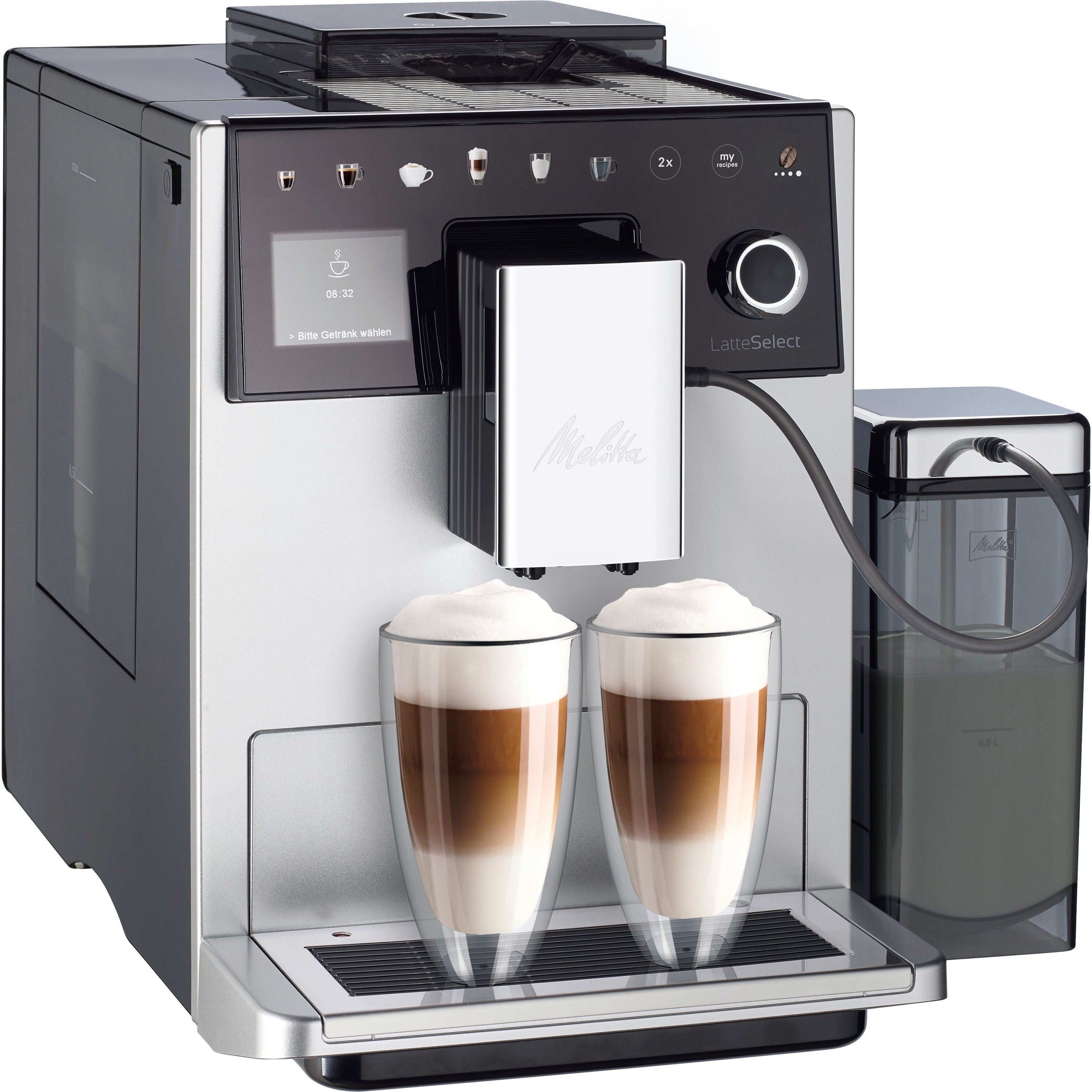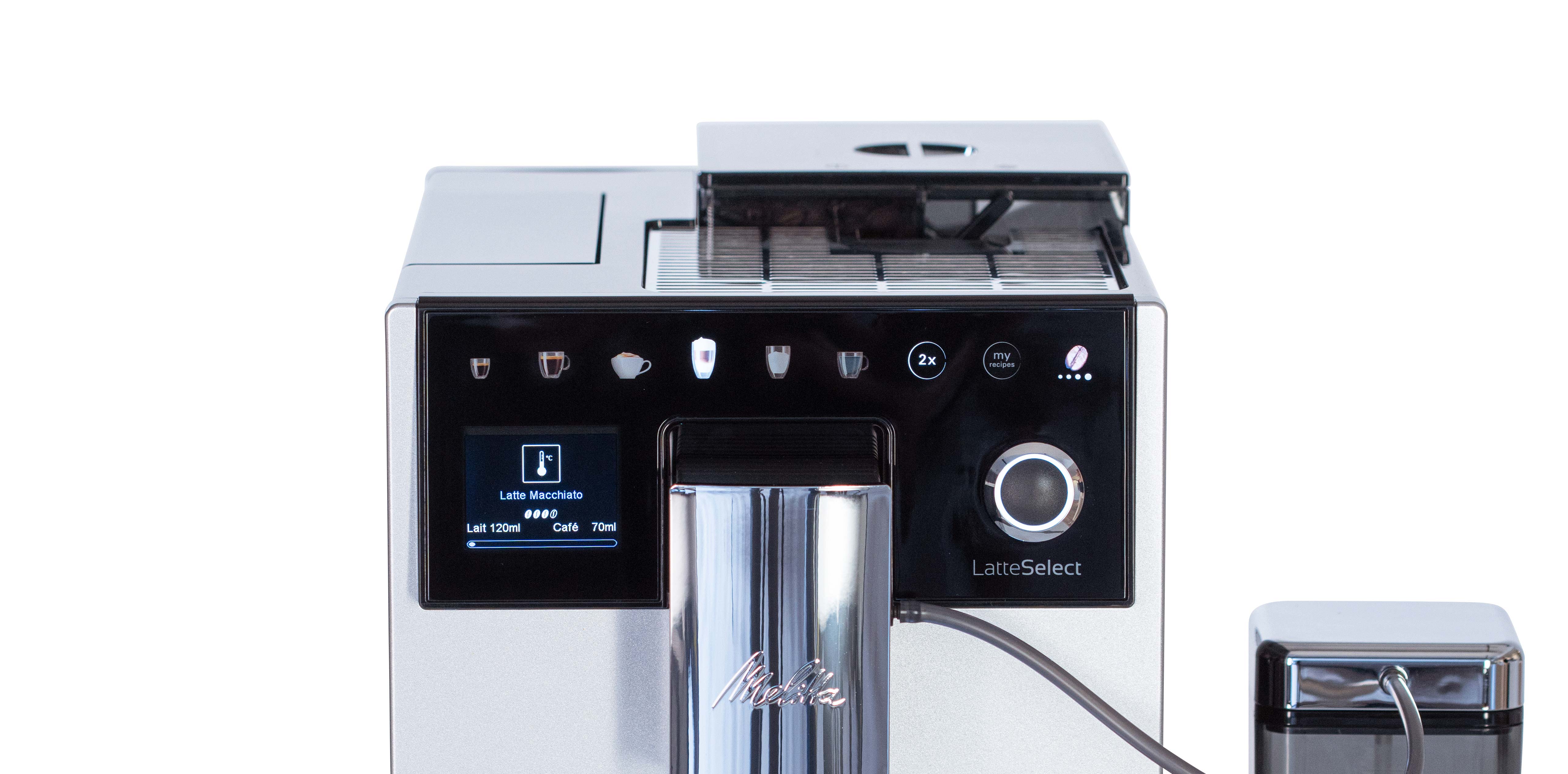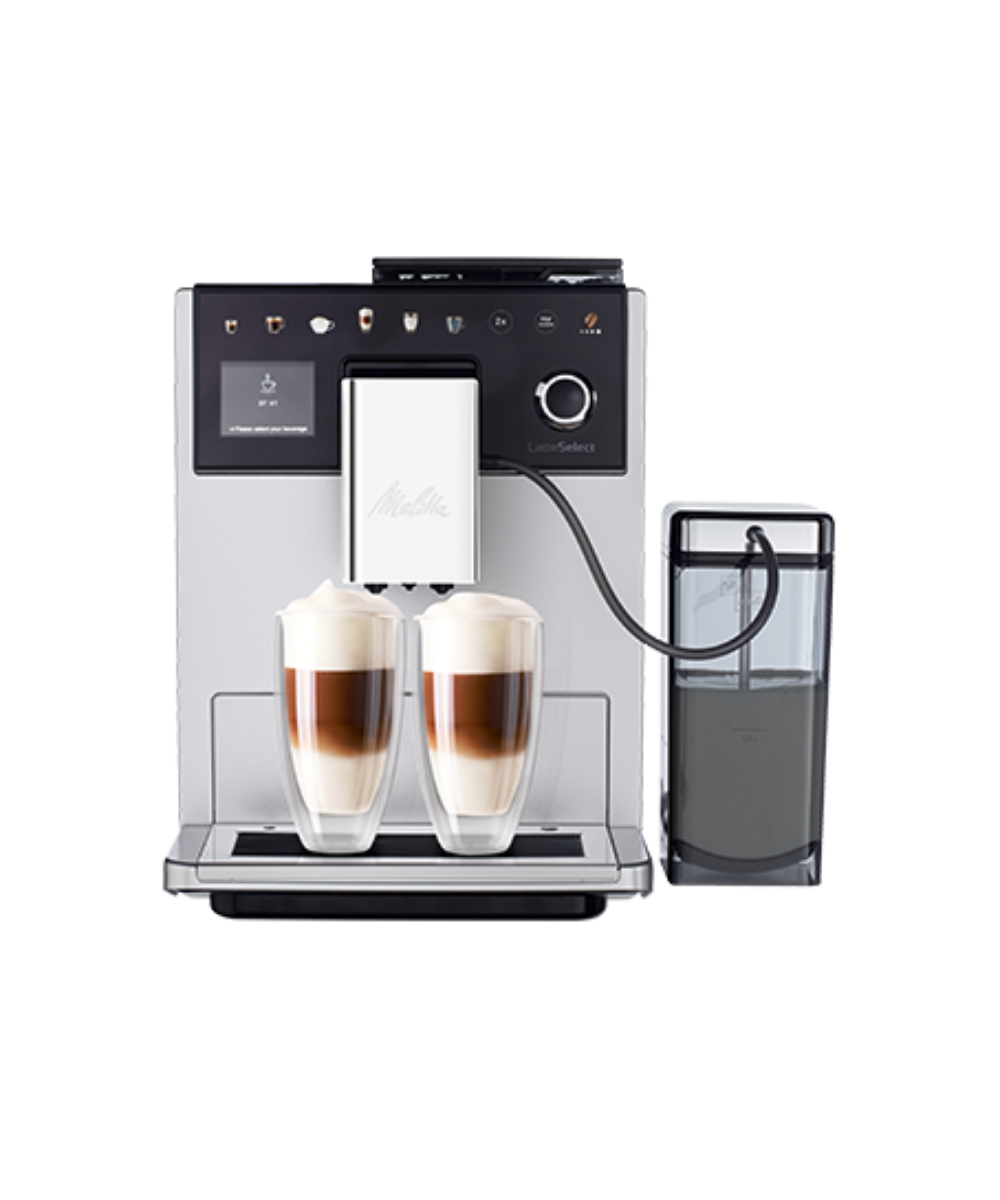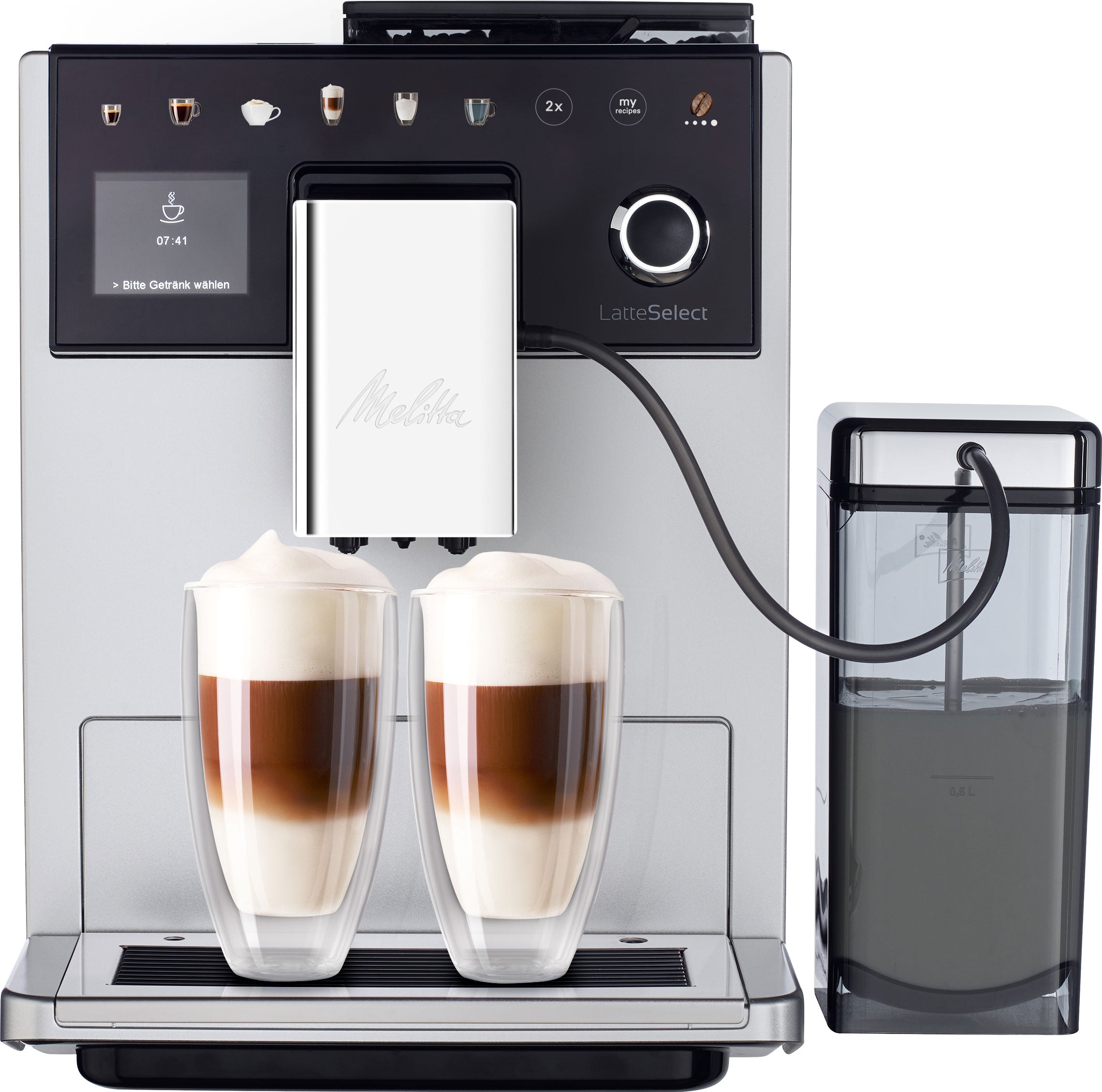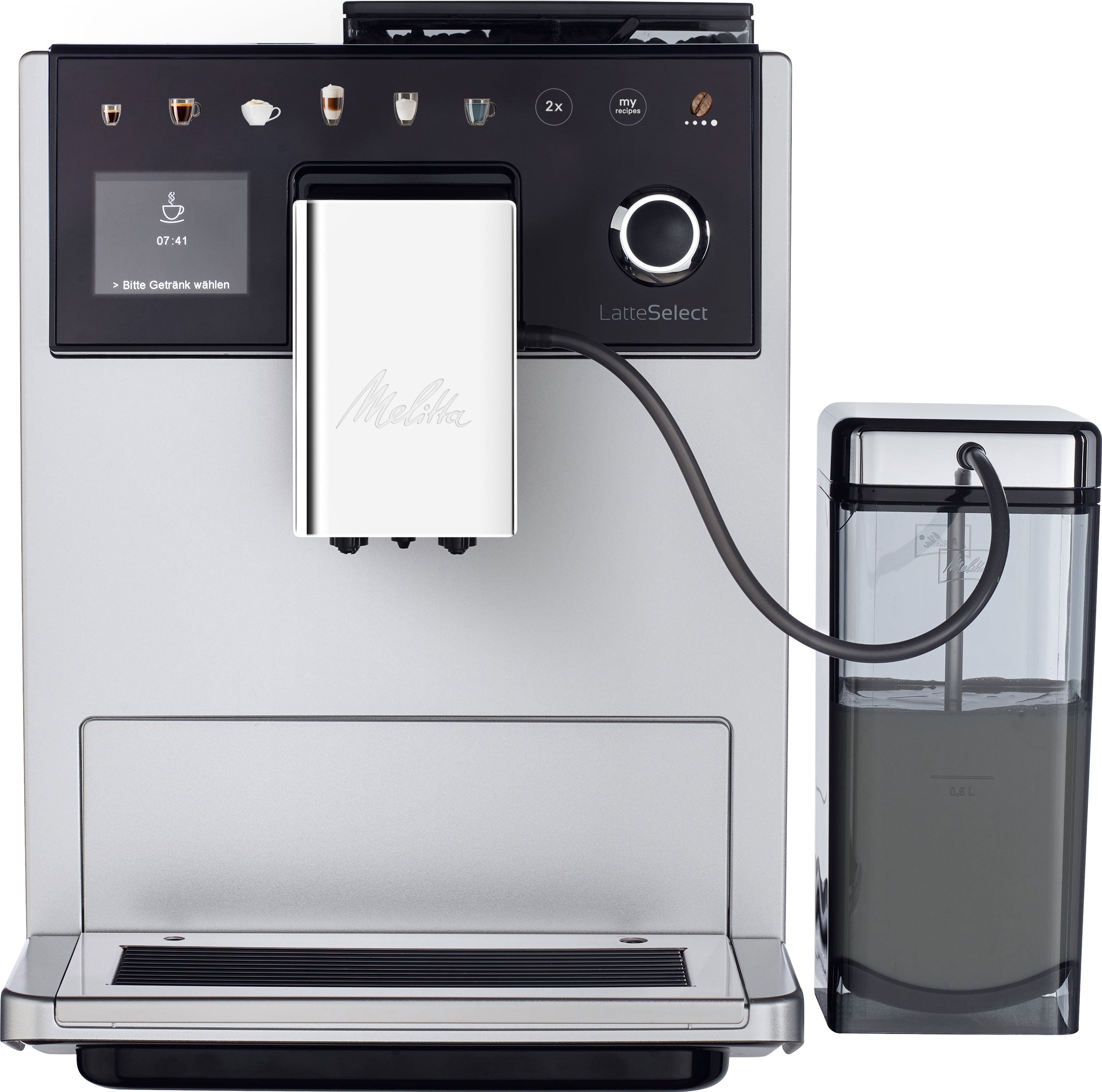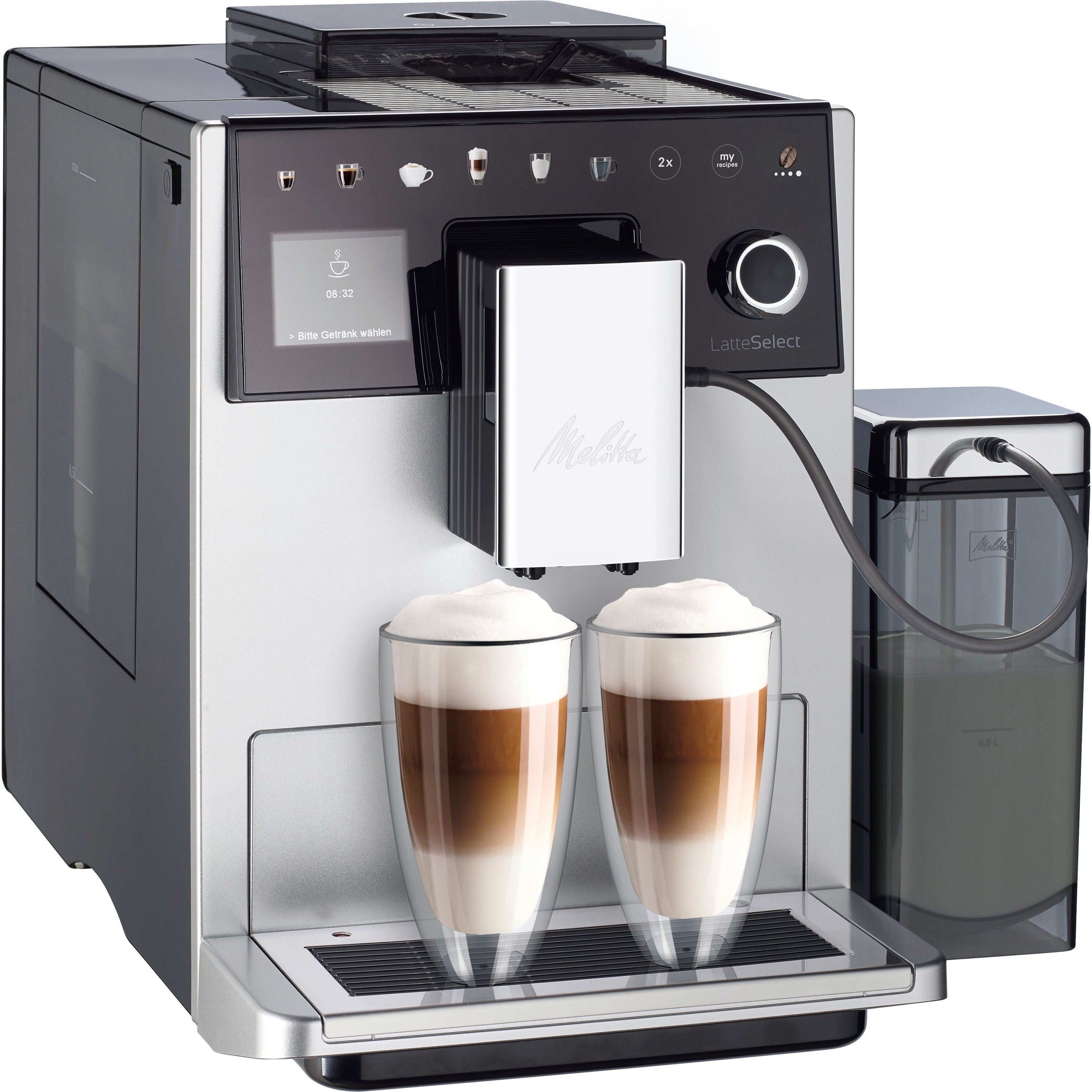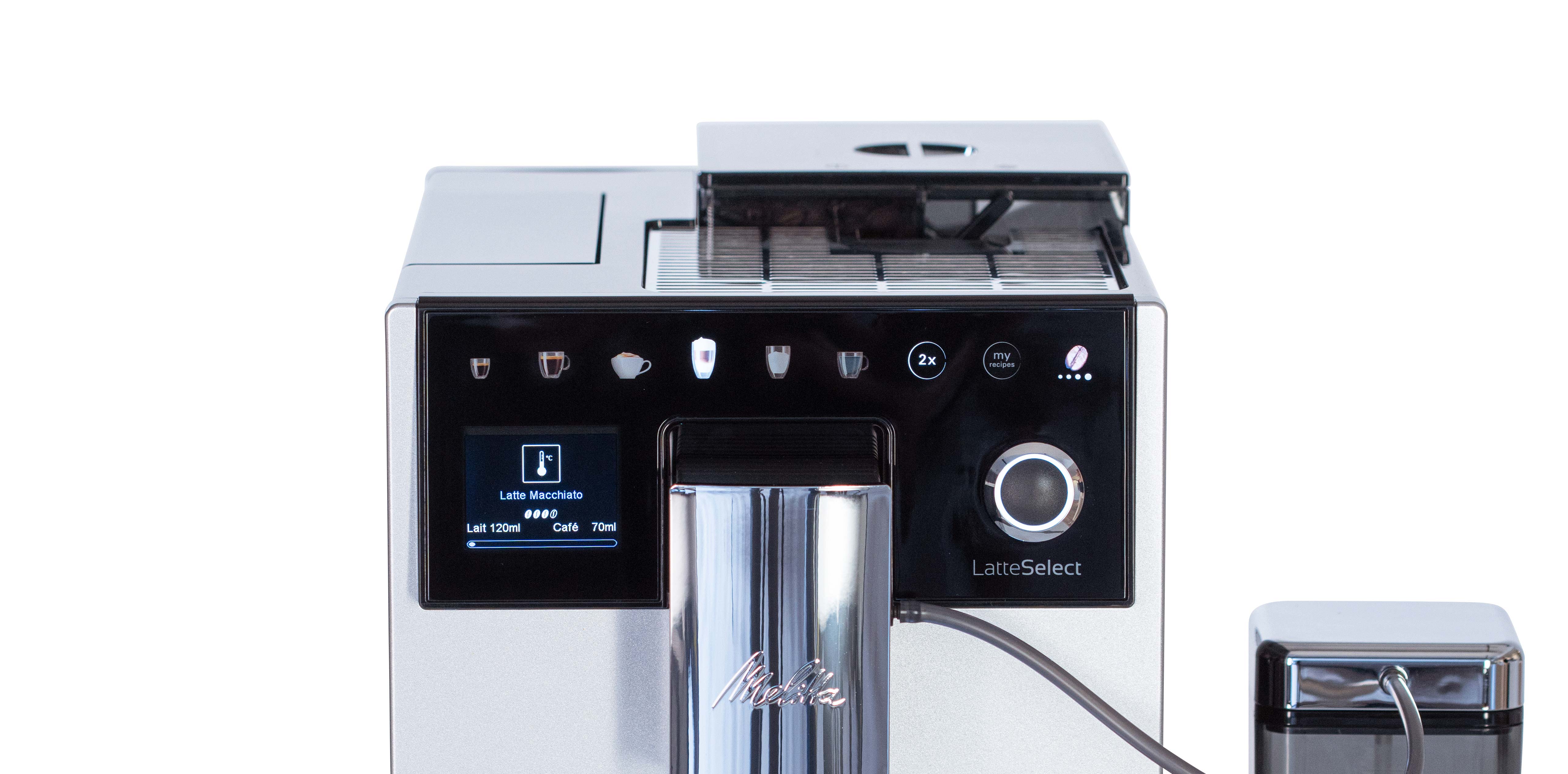 One Touch ahead!
With the LatteSelect, you are just one touch of a button away from perfect coffee enjoyment. The real-image colour display... Read More
One Touch ahead!
With the LatteSelect, you are just one touch of a button away from perfect coffee enjoyment. The real-image colour display makes touch operation even more intuitive. Simply touch the sensor fields to start the preparation of your favourite coffee speciality. You can choose either from one of the twelve coffee recipes or try out and save one of your own special settings. The two-chamber bean container caters for individual tastes.
More Infomation To You
Things you need to know
Whisperquiet grinder
The LatteSelect is characterised by an ultra quiet grinder that uses a particularly low-noise grinding process. This will allow you to enjoy the preparation of your coffee in peace. The LatteSelect has also received a Quiet Mark award for this. You will find more information here.
Ease of Use
The touch surface of the sensor fields makes it easy to use. Step by step instructions on the high resolution TFT colour display guide you through the menu in a self-explanatory way.

12 Coffee recipes
Do you love variety? Your fully automatic coffee machine will fulfil many of your coffee wishes. Select the four classics – espresso, café crème, cappuccino and latte macchiato – with just a light touch. Use the menu to make 8 other coffee specialities such as lungo, americano or espresso macchiato.

Manual Bean Select
Different coffee beans are required to prepare the large number of coffee specialities and guarantee the best possible taste experience. This is why the LatteSelect features the two-chamber bean container with the manual bean select function that allows you to choose, for example, either fine mild coffee beans or aromatic and strong espresso beans. The Aromasafe® lid and the dark tinting of the container retain the aroma of the coffee beans. There is also a separate ground coffee chute for ground coffee.

Anti Scratch
The newly designed drip tray has a stainless steel drip plate with an integrated high-quality anti-scratch plastic insert.
LatteSelect
Pro Aqua Filter technology
If you use a Melitta® Pro Aqua water filter, the LatteSelect will only need to be descaled once per year. The filtered water improves the coffee quality and taste while also preventing limescale deposits in the water circuit. (Information based on 120 ml cup fill level with 6 dispensing operations per day and the filter being changed 6 times in accordance with the appliance specification.)

My Coffee Memory
Your fully automatic coffee machine remembers your coffee preferences. With the "My Coffee Memory" feature you can set your favourite coffee specialities without having to study computer science. And before other people at home or in the office get envious, you can share the convenience – your machine saves the personal preferences of up to six people.

Aromatic Coffee Enjoyment
The new pump control system enables an ideal contact time between the water and coffee. You can now enjoy the two coffee classics of espresso and café crème with even better developed coffee aromas.

Italian Preparation Process
The Italian preparation process ensures an authentic taste as the ingredients are combined in the right order using an original Italian recipe. This means that, for latte macchiato, the espresso is added after the milk and the milk froth. For cappuccino, it is exactly the opposite.

Brewing strength and grinding fineness
For individual tastes, the brewing strength can be adjusted to 4 settings and the grinding fineness to 5 settings.

One Touch
Espresso, Café Crème, Cappuccino and Latte macchiato can be selected with just one touch. Warm milk, frothed milk or hot water are also available easily and conveniently with One Touch.
Double Cup Mode
It's better together – with the Double Cup Mode you can simultaneously prepare two cups of many coffee specialities with or without milk. Also good for those who drink a lot of coffee of course.
All-in-One outlet
Separate nozzles for coffee, milk and hot water ensure simple preparation of your favourite beverages without you having to move the cup. Additionally, the height of the outlet can be adjusted by up to 140 mm so tall latte macchiato glasses will fit, too.
Removable brewing unit
The whole brewing unit can be removed and is easy to clean. This makes the inside of the machine accessible too, so it can also be cleaned without problem.
Automatic cleaning and descaling programme
Communication is everything. Your fully automatic coffee machine informs you on the display when it needs to be cleaned or descaled.
Easy Steam Cleaning
Fast and hygienic – each time you make a drink with milk, your fully automatic machine offers to clean the parts in contact with milk. At the press of a button hot water and steam start cleaning thoroughly.
Plug-in milk system
The milk system with its external, dishwasher-safe milk container is easy to remove and fits in any fridge. The separate milk unit in the outlet also ensures cleanliness, as it is separate from the coffee system. It too is easy to remove and clean.